​'Every institution should have music therapy, and its own music therapists.'
​- Oliver Sacks
​Katya is the first full-time music therapist at Great Ormond Street Hospital for Children. You can find out more about her work at GOSH

here

.

​She takes great pride in demonstrating how music can provide opportunities for meaningful connection, creative expression, and joyful shared experiences, whilst using evidence-based techniques to support patients' recovery and care.
---
​Watch this video to see some music therapy sessions in action:
---
About Music Therapy

---

Music therapy is the use of music to reach non-musical goals.

In a paediatric hospital, the goal of a music therapy session might be an immediate one: helping a child or young person to stay calm before/during a medical procedure, for example. Or it might be part of a longer-term process, like helping babies and toddlers reach the developmental milestones threatened by a long hospital stay, or supporting a child or young person to cope with their anxiety surrounding diagnosis and medical treatment.

​​Here are some more examples:

Rehabilitation and recovery of cognitive and sensorimotor skills impacted by illness or injury
Speech and language development or recovery; working on alternative communication systems (e.g. Makaton)
Emotional processing and expression; working through feelings related to short- and long-term effects of medical diagnosis and hospital admission
Elevating mood and a sense of well-being
Increasing engagement in other therapies
Alleviating the perception of pain; learning techniques for relaxation and pain management
Lowering blood pressure, heart rate and/or breathing rates; decreasing physical tension
Normalising the hospital environment and supporting positive family experiences, including parent-baby bonding in the NICU.

To find out more about music therapy at Great Ormond Street Hospital for Children, please visit

this page

, or email Katya.Herman@gosh.nhs.uk.

About Katya

---

Katya is a board certified music therapist (MT-BC) in the USA, and is registered by the Health and Care Professions Council (HCPC) in the UK. She is a certified Neurologic Music Therapist (NMT) and

MATADOC

assessor, and has completed additional music therapy training to work in Neonatal Intensive Care.

She began her career at

Massachusetts General Hospital

, in paediatric and adult oncology, adult inpatient psychiatry, and paediatric intensive care. Before working at Great Ormond Street, she worked on the Trauma and Neuroscience wards at The Royal London Hospital, and on a

research project

investigating the role of music therapy for children

and young adults with Batten disease.

When setting up the music therapy service at Great Ormond Street (made possible by a collaboration with

Chiltern Music Therapy

, and the

Peterson Family Foundation

) the goal was to embed music therapy as a standard part of the hospital's multi-disciplinary care. Katya is now part of the team for the following services at GOSH: Haematology and Oncology; Bone Marrow Transplant; Immunology; Respiratory and Transitional Care; Cardiology; Gastroenterology; Intensive and High Dependency Care; and Child and Adolescent Mental Health. She works closely with the Learning Disability team and is working with the Anaesthetic Pre-op Assessment Unit to create a music therapy referral pathway to improve the peri-operative care for patients with Learning Disabilities across the Trust.

The hope now is to grow the service in order to ensure that every child and young person can access music therapy while at Great Ormond Street Hospital.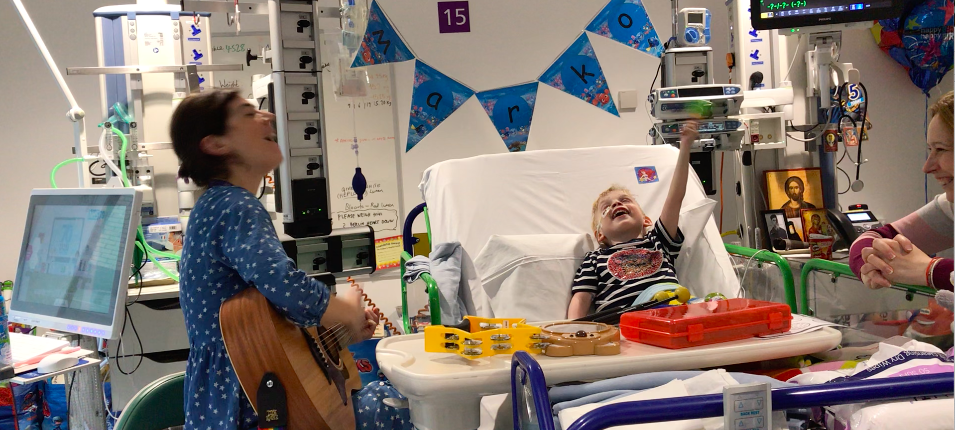 ---

How to Uke!

In 2021, Katya co-wrote a book called

How to Uke: Tips and tricks for learning the ukulele,

with her friend and colleague, Heather McLelland, to support children and young people's access to music, both in the hospital and beyond.

The book and accompanying video series were commissioned as a joint endeavour by GOSH Arts and rb&hArts (Royal Brompton and Harefield hospitals). Printed copies are available for patients at Great Ormond Street and the Royal Brompton, or you can download the book (for free!)

here

.
---
---